Inverter 2E XM-8K48T 8000 VA (standalone)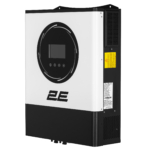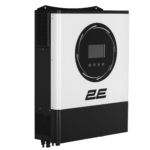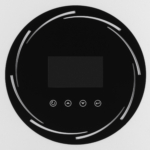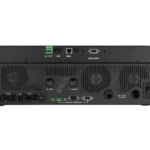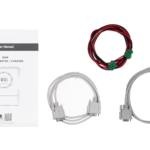 The stand-alone inverter 2E XM-8K48T with grid and solar charge controllers provides a pure sinusoidal output signal, which is very important for the stable operation of precision equipment such as pumps or gas boilers. In addition, the model has many useful features, including: the ability to control via Wi – Fi and combine as many as six devices into a single system!
Power 8 kW/8000 VA
Ability to connect a 48 V battery
Built-in chargers (grid and solar)
Pure sine wave
Remote control capability
Integration into the "Smart Home" system
Parallel operation for up to 6 devices
Maintaining a 1-3-phase configuration
Built-in security features
Characteristics
Where to buy
| | |
| --- | --- |
| Type | Standalone inverter |
| Kind | With built-in grid and MPPT solar charger |
| Power | 8kVA/8kW |
| Battery | External 48 VDC |
| Input | 170-280 V, ~50/60 Hz (Hardwired) |
| Output | 230V, ~50/60Hz 1+1 controlled AC output, Hardwired |
| Output waveform | Pure sine wave |
| Maximum power of PE array | 2x4000 W/2x27A |
| MPPT window | 90-450 VDC 2x MPPT |
| Maximum charger current, A | 150 |
| Interface | RS-232/485, USB, Wi-Fi, Dry-contact |
| Dimensions (HxWxD), mm | 552x422x152 |
| Weight, kg | 18.5 |
| Manufactured | China |
| Warranty | 18 months |
Operation without battery
The XM-8K48T 8 kW (8000 VA) inverter will help you solve complex and energy-intensive tasks. Among the features of the model: maintaining a single or three-phase configuration, as well as the possibility of parallel operation of up to 6 devices at the same time! The XM-8K48T is completely self-contained and has built-in grid and solar chargers, so it can be easily connected to a PV array with a maximum power of 2×4,000 W ( Isc – 2×27 A). So, MPPT range is 90-450 VDC (2×MPPT). The inverter provides 230V pure sine wave (Hardwired) in battery mode. For full operation of the device, no battery is required, and if necessary (for energy storage), you can connect external batteries of 48 V of various types, the maximum current of the charger is 150 A.
For offices and private houses up to 170 m²
The model will be useful both at the enterprise or office, and in private houses up to about 170 m². For example, the power of the XM-8K48T is enough to simultaneously power the systems of autonomous water supply, ventilation and air conditioning, heating, etc., while not limiting the use of household appliances. The inverter is distinguished by a wealth of interfaces: RS-232 (connection to a PC), USB, RS-485 (for connecting a variety of controllers of the Smart Home system), Wi-Fi (possibility of remote control through applications), Dry-contact (work according to the set scenario ). What's more, the inverter is equipped with protection functions for the safety of users.