Inverter 2E SM-6K248T 6200 VA (standalone)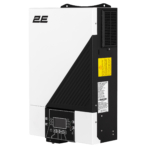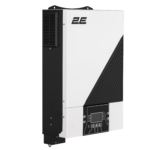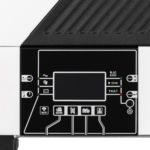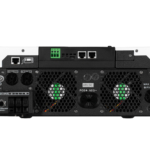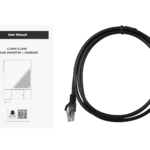 Autonomous inverter 2E SM-6K248T is designed for uninterrupted power supply of objects remote from the centralized power grid, especially relevant during rolling blackouts. Wide application possibilities are due to the design features: the model has built-in network and solar charging controllers, protection functions and the ability to set charging priority.
Power 6.2 kW/6000 VA
Ability to connect a 48 V battery
Built-in chargers (grid and solar)
Pure sine wave
Remote control capability
Integration into the "Smart Home" system
Generator compatibility
Built-in security features
Charging priority selection
Characteristics
Where to buy
| | |
| --- | --- |
| Type | Standalone inverter |
| Kind | With built-in grid and MPPT solar charger |
| Power | 6.2kVA/6.2kW |
| Battery | External 48 VDC |
| Input | 176-280 V, ~50/60 Hz (Hardwired) |
| Output | 230V, ~50/60Hz 1+1 controlled AC output, Hardwired |
| Output waveform | Pure sine wave |
| Maximum power of PE array | 6000 W/1x27A |
| MPPT window | 60-450 VDC |
| Maximum charger current, A | 120 |
| Interface | RS-232/485, USB-OTG, Wi-Fi, Dry-contact |
| Dimensions (HxWxD), mm | 356x471x149 |
| Weight, kg | 13 |
| Manufactured | China |
| Warranty | 12 months |
High voltage controller MPPT
The 6.2 kW (6200 VA) inverter SM-6K248T will help you solve complex and energy-intensive tasks. The stand-alone device has a network and solar controller (high voltage MPPT), which makes it easy to connect a photovoltaic array (solar panels) with a maximum power of 6,000 W (1 × 27 A). MPPT range is 60-450 VDC. In addition, if necessary, batteries of various types of 48 V can be additionally connected to the inverter, while the maximum charger current will be 120 A (combined). In general, in terms of application possibilities, the power of the inverter is enough to heal the main systems (heating, water supply, air conditioning), for example, a cottage or an enterprise up to 150 m².
Integration into the "Smart Home" system
The technical capabilities of the SM-6K248T model are successfully complemented by a wealth of interfaces: RS-232/485 ports are used to connect a PC or Smart Home system controllers; using Wi-Fi , you can remotely control the device; Dry-contact technology allows you to set certain conditions (scenario) to automatically turn on the inverter and, of course, the usual USB-OTG is built in.