SD6000RTL, 6kVA/6kW, RT4U, LCD, USB, external battery, terminal in&out 2E-SD6000RTL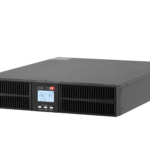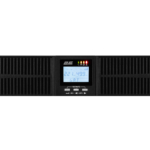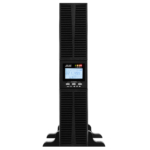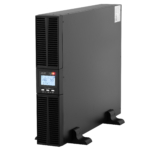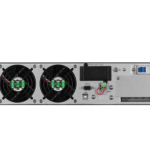 Considering the military present, the 2E SD6000RTL uninterruptible power supply is a musthave for business and stable operation of critical public facilities, including maternity hospitals, laboratories, etc. The model has a power of 6 kW, provides microprocessor control, that guarantees flexibility and control for smooth system operation, and ECO mode to optimize energy consumption. The device is characterized by efficiency: ≥ 94 % at 100 % load, 95 % at 60 % load and ≥ 98 % in ECO mode.
Characteristics
Where to buy
Type
Online with double conversion
Installation type
Rack/Tower
Maximum output power, VA
6000
Effective output power, W
6000
Input
Single phase N-PE
Input voltage range, V
110-176 (linear derating between 50% and 100% load), 176-288 (no derating)
Input frequency, Hz
40-70 (automatic detection)
Maximum current, A
1
THD input
≤5%
Output
Single phase+N
Output voltage range, V
208/220/230/240
Output frequency, Hz
50-60±1% (automatic detection)
THD output
≤1% linear load; ≤4% non-linear load
Inverter overload
105%-110% for 10 min
110%-125% for 1 min
>126%-150% for 30 s
Efficiency
≥ 94% (100% load), max. 95% (60% load), 98% (ECO mode)
Sockets
Terminal block
Interfaces
RS-232, USB, optional SNMP adapter
Display
Yes
Noise level, dB
≤55
Operating temperature
0-40 °C
Relative humidity
0-95% (non-condensing)
Colour
Black
Protection class
IP 20
Protection
Overheat protection, fan test protection, overload protection, output short circuit protection, low battery protection
Additionally
ECO mode
Dimensions (WxDxH), mm
440х580х88
Weight, kg
12
Manufactured
China
Warranty
2 years
2E UPS is equipped with terminal block connectors, all necessary interfaces, including RS-232 and USB, and an SNMP adapter (optional), and a multi-functional LCD display simplifies device status monitoring. The online double conversion technology is also used, which provides reliable protection against possible failures in the power grid.
2E SD6000RTL does not have built-in batteries, but it is possible to connect 16-20 additional batteries. This design feature makes it possible to use the device in two ways: in mains mode through bypass and in battery mode with batteries of 50/60 Hz frequency and an accuracy of ± 0.1% Hz.
The DC bus operates in the range of 192-240 V DC. The maximum charging current is 5 A, but options are available to increase it to 12 A, that provides the ability to configure the UPS operation according to the user's needs. Thanks to its extended single-phase input voltage range of 110 to 288 V AC, the 2E SD6000RTL is the optimal solution for use in unstable power conditions, as it continues to supply connected devices with pure sinusoidal current even with large deviations. In particular, such UPSs are used for uninterrupted power supply of medical equipment, including life support systems in intensive care units, for data centers and enterprises with a continuous production cycle.
The universal Rack/Tower form factor makes it possible to easily integrate the 2E UPS into any environment. With a weight of 12 kg, the device has dimensions of 440 × 580 × 88 mm. Noise level is ≤ 55 dB. The model has an IP20 protection degree, as well as protection against short circuit, overload, overheating, full battery discharge and the ability to check the fan.