Generator 2E Gasolin Invertor 220V,50HZ, 2kw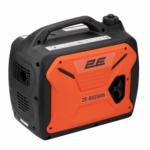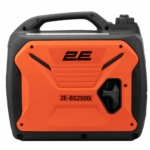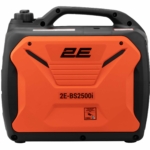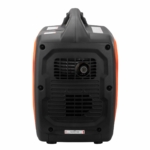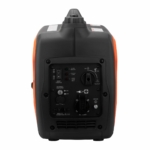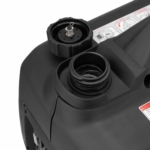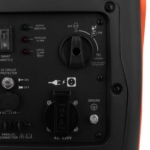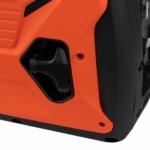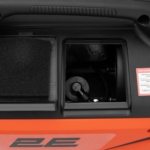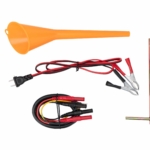 2E gasoline inverter type generator produces electricity with a constant voltage and frequency regardless of the consumed current and engine speed. The voltage stability achieved by using the inverter principle allows you to power sensitive equipment without the risk of damaging it. The model will come in handy not only in the event of an emergency power outage, but also during a camping holiday or for performing any tasks at a distance from the city infrastructure.
Type: inverter
Power 2 kW
One phase
Gasoline tank volume 5.5 l
Air cooling
Start: spark plug
Pure sine wave
AC outlet
DC outlet 12 V, 5 A
Characteristics
Where to buy
| | |
| --- | --- |
| Type | Inverter generator |
| Fuel type | Petrol |
| Alternator type | Brushless permanent magnet |
| Rated power, kW | 2 |
| Maximum power, kW | 2.2 |
| Rated voltage, V | 220 |
| Frequency, Hz | 50 |
| Number of phases | 1 |
| Startup type | Manual |
| Tank capacity, l | 5.5 |
| Engine cooling | Air |
| Outlets | 1xShuko (16A-230B) |
| Features | Oil level sensor, fuel level sensor, short circuit protection, low oil level protection, overload indication |
| Weight, kg | 23.2 |
Automatic DC Switch
This single-phase model has a power of 2 kW, but it can «output» a maximum of 2.2 kW. It runs on gasoline, the fuel tank volume is 5.5 l. An important feature is the ability to charge the batteries directly from the generator. For this, a 12 V, 5 A DC outlet and an automatic switch are provided: when the current exceeds the specified values, the DC switch will automatically turn off. There is also a 220 V AC outlet. The unit has stall protection, overload protection and an output current indicator. For ease of carrying, a handle is integrated on top of the body.
Smart Savings
Another no less important feature of the model is the ability to «adjust» to the load. For example, if a device consuming 1 kW is connected to the unit, and the generator power is 2 kW, the engine speed will be reduced by half. As a result, fuel consumption will also decrease. But if you increase the load on the generator by connecting additional equipment, the engine speed increases automatically. So from this comes an undeniable advantage in favor of the model: 2E-BS2500I consumes only the amount of energy and gasoline necessary to ensure the operation of connected devices.
Pure Sine Wave
2E generator provides voltage without drops and surges due to the operation of the current converter «in a duet» with the regulator. 2E-BS2500I model will definitely not damage sensitive equipment such as: power tools, mobile devices, TVs and computers, household appliances, etc. Alternating current turns into direct current, its characteristics are «equalized», and then it becomes alternating again, but already with a perfect sinusoid.