Inverter 2E XM INFINI 6000VA (Hybrid)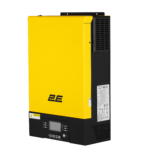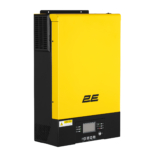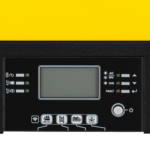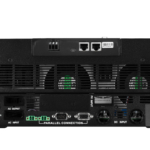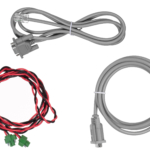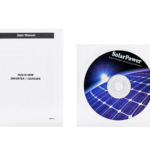 The 2E XM INFINI inverter with feed-in and hybrid operation will not only help meet power supply needs, but also save money, because according to the feed-in tariff legislation, funds are paid for excess energy generated in the grid. In addition, more possibilities can be obtained by creating a system of nine such devices!
Power 6 kW/6000 VA
Ability to connect a 48 V battery
Built-in chargers (grid and solar)
Maintain grid power generation and hybrid operation
Pure sine wave
Possibility of remote control through applications
Integration into the "Smart Home" system
Maintaining a 1-3-phase configuration
Parallel operation for up to 9 devices
Characteristics
Where to buy
| | |
| --- | --- |
| Type | Hybrid Inverter |
| Kind | With built-in grid and MPPT solar charger |
| Power | 6kVA/6kW |
| Battery | External 48 VDC |
| Input | 170-280 V, ~50/60 Hz (Hardwired) |
| Output | 208-240V, ~50/60Hz (auto-sensing), Hardwired |
| Output waveform | Pure sine wave |
| Overload | 5 sec - 150%, 10 sec - 110-150% |
| Maximum power of PE array | Up to 2400 W |
| MPPT window | 120-430 VDC, max. Voc - 500 VDC |
| Maximum charger current, A | 120 |
| Interface | RS-232/485, USB, Wi-Fi, Dry-contact |
| Dimensions (HxWxD), mm | 468х365x140 |
| Weight, kg | 14 |
| Manufactured | China |
| Warranty | 18 months |
For single and three phase configuration
The hybrid six -kilowatt inverter has a mains and MPPT charge controller for connection to photovoltaic arrays with a maximum power of 6500 W (Isc 27 A). MPPT range is 120-430 V (DC), max. Voc – 500 V (DC). Also, if necessary, you can connect an external battery 48 V with a maximum charger current of 120 A (combined). In addition: XM INFINI supports single and three-phase configuration. It is possible to use XM INFINI to create a system of nine devices for parallel operation.
Maintaining power generation to the grid
The model is rich in interfaces. In addition to the usual USB, the inverter is equipped with RS-232 and RS-485 for connecting a PC or various controllers, including elements of the Smart Home system. Thanks to the Wi – Fi adapter, remote control of the inverter is available, and the Dry-contact technology allows you to set certain conditions (scenario) for automatically turning on the device. But the main feature of the XM INFINI inverter is the hybrid mode of operation, therefore, the maintenance of the "green tariff" – a mechanism in which the state is obliged to buy from the owners of solar power plants the excess energy produced 4-5 times more expensive than consumption tariffs.