Inverter 2E VM-2K24 2000 VA (standalone)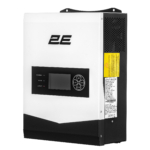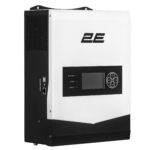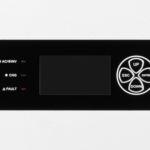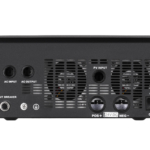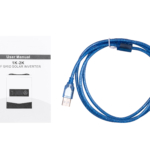 Inverter 2E is a DC to AC converter, its efficiency is 93%. The model has built-in solar and mains chargers. The VM-2K24 is designed for a single-phase network, providing a pure sine wave output signal and switching times of 10ms and 20ms depending on the type of connected devices.
Power 2 kW/2000 VA
Possibility to connect a 24 V battery
Built-in chargers (grid and solar)
Pure sine wave
Switching time: 10ms (for PC) / 20ms (home appliances
Efficiency 93%
Built-in security features
Charging priority selection
Generator compatibility
Characteristics
Where to buy
| | |
| --- | --- |
| Type | Standalone inverter |
| Kind | With built-in grid and MPPT solar charger |
| Power | 2kVA/2kW |
| Battery | External 24 VDC/27 V-fc/32V-op |
| Input | 170-280 V, ~50/60 Hz (Hardwired) |
| Output | 230V, ~50/60Hz, Hardwired |
| Output waveform | Pure sine wave |
| Efficiency | 93% |
| Switching time, mc | 10 (for PC)/ 20 (home appliances) |
| Maximum power of PE array | Up to 1000 W |
| MPPT window | 115 VDC open circuit |
| Maximum charger current, A | 65 |
| Interface | RS-232, USB |
| Dimensions (HxWxD), mm | 355x250x122 |
| Weight, kg | 5.6 |
| Manufactured | China |
| Warranty | 12 months |
Compatible with various types of batteries
The power of the model is 2 kW/2000 VA. The autonomous inverter can be connected both to conventional AC sources such as car batteries, and to photovoltaic arrays (solar panels) with a power of up to 1,000 W. The inverter provides 230V pure sine wave ( Hardwired ) in battery mode. In addition, 2E-VM-2K24 can be connected to various types of external batteries at 24 VDC, while the maximum current of the charger will be 65 A (combined). The inverter is compatible with generators and has built-in protection features.
USB for PC healing
The efficiency of the 2E inverter VM-2K24 is 93%. It is equipped with the usual USB and RS-232 connector, through which, for example, to connect the controller of the "Smart Home" system. The switching time is variable and depends on the type of connected devices: 10 ms for PC and 20 ms for home appliances. The model is useful for solving simple problems when the power supply is interrupted, which happens especially often in modern realities: there is enough power to power a gas boiler, refrigerator, TV and selective lighting at home.