Inverter 2E XM KING 6000 VA (standalone)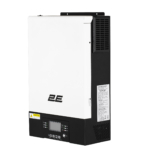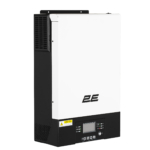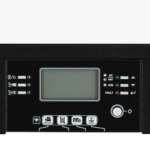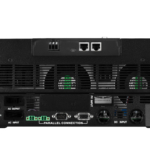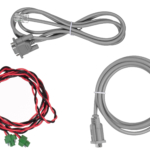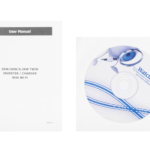 The stand-alone 2E XM KING inverter with built-in chargers (grid and solar) provides a pure sinusoidal output signal, which is very important for the stable operation of precision equipment such as pumps or gas boilers. In addition, the model has many useful features, including: the ability to control via Wi – Fi and combine nine devices into a single system!
Power 6 kW/6000 VA
Ability to connect a 48 V battery
Built-in chargers (grid and solar)
Pure sine wave
Providing "pseudo- online "
Possibility of remote control through applications
Integration into the "Smart Home" system
Maintaining a 1-3-phase configuration
Parallel operation for up to 9 devices
Built-in security features
Characteristics
Where to buy
| | |
| --- | --- |
| Type | Standalone inverter |
| Kind | With built-in grid and MPPT solar charger |
| Power | 6kVA/6kW |
| Battery | External 48 VDC |
| Input | 176-280 V, ~50/60 Hz (Hardwired) |
| Output | 230V, ~50/60Hz, 1+1 controlled AC output, Hardwired, ″on-line mode″ |
| Output waveform | Pure sine wave |
| Maximum power of PE array | 6000 W |
| MPPT window | 120-430 VDC, max Voc - 500 VDC, Isc - 27A |
| Maximum charger current, A | 120 |
| Interface | RS-232/485, USB, Wi-Fi, Dry-contact |
| Dimensions (HxWxD), mm | 468x295x140 |
| Weight, kg | 12 |
| Manufactured | China |
| Warranty | 18 months |
Compatible with different types of batteries
The autonomous six -kilowatt inverter has a built-in network and MPPT charge controller for connecting photovoltaic arrays with a maximum power of 6,000 W. MPPT range is 120-430 V (DC), max. Voc – 500 V (DC), Isc – 27 A. Also, if necessary, you can connect an external 48 V battery of any type to it with a maximum charger current of 120 A (combined). The device converts an unstable 176-280V (Hardwired) AC input into the required 230V, providing a pure sine wave. In addition: 2E XM KING supports single and three-phase configuration and has built-in protection functions.
To create a system of nine devices
The model is rich in interfaces. In addition to the usual USB, the inverter is equipped with RS-232 and RS-485 for connecting a PC or various controllers, including elements of the Smart Home system. Thanks to the Wi – Fi adapter, remote control of the inverter is available, and the Dry-contact technology allows you to set certain conditions (scenario) for automatically turning on the device. An undoubtedly important feature is the ability to use XM KING to create a system of nine devices for parallel operation!