Inverter 2E SM-4K224T 4200 VA (standalone)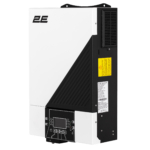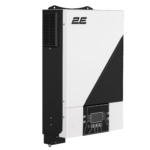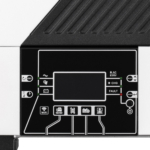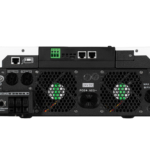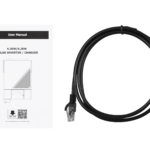 Autonomous inverter 2E SM-4K224T is designed for uninterrupted power supply of objects remote from the centralized power grid, especially relevant during rolling or emergency power outages. Wide application possibilities are due to the design features: the model has built-in network and solar charging controllers, protection functions, an available choice of charging priority. In addition, the device is compatible with generators!
Power 4.2 kW/4200 VA
Possibility to connect a 24 V battery
Possibility to connect a 24 V battery
Pure sine wave
Remote control capability
Integration into the "Smart Home" system
Generator Compatibility
Built-in security features
Charging priority selection
Characteristics
Where to buy
| | |
| --- | --- |
| Type | Standalone inverter |
| Kind | With built-in grid and MPPT solar charger |
| Power | 4.2kVA/4.2kW |
| Battery | External 24 VDC |
| Input | 176-280 V, ~50/60 Hz (Hardwired) |
| Output | 230V, ~50/60Hz 1+1 controlled AC output, Hardwired |
| Output waveform | Pure sine wave |
| Maximum power of PE array | 5000 W/1x27A |
| MPPT window | 60-450 VDC |
| Maximum charger current, A | 120 |
| Interface | RS-232/485, USB-OTG, Wi-Fi, Dry-contact |
| Dimensions (HxWxD), mm | 356x471x149 |
| Weight, kg | 13 |
| Manufactured | China |
| Warranty | 12 months |
Pure sine wave for "precise" technology
A pure sinusoidal signal is essential for the correct operation of precision equipment (pumps, boilers). In the event of an emergency power outage or in case of unstable operation of the mains, a stand-alone 4200 VA inverter is useful, providing a pure sine wave of 230 V (Hardwired) in battery mode. And for connection to a PV array with a maximum power of 5000 W, a built-in MPPT controller (MPPT range is 60-450 VDC) is provided. In addition, if necessary, batteries of various types of 24 V can be additionally connected to the inverter, while the maximum current of the DC is 120 A (combined).
Interfaces for smart home
The technical capabilities of the SM-4K224T model are successfully complemented by a wealth of interfaces: RS-232/485 ports are used to connect a PC or Smart Home system controllers; using Wi-Fi, you can remotely control the device; Dry-contact technology allows you to set certain conditions (scenario) to automatically turn on the inverter and, of course, the usual USB-OTG is built in.