Mobile router 2E PowerLink (MiFi 1) USB, LTE, 1x2FF SIM, WiFi 2.4GHz Black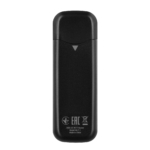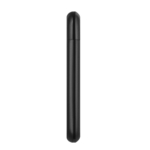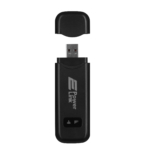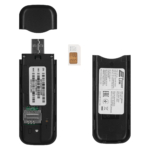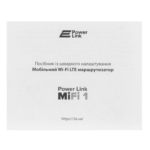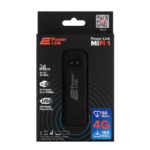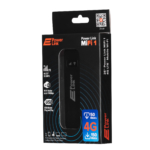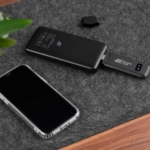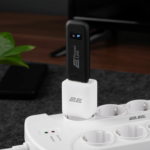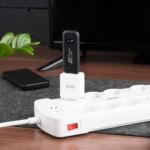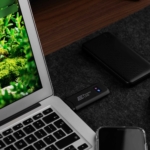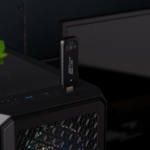 2E PowerLink MiFi 1 is a compact 4G Wi-Fi router in the USB modem form factor that provides access to the mobile Internet (3G/4G) at a speed of up to 150 Mbit/s. With it you can connect to a 4G LTE network and enjoy high download and data transfer speeds, as well as a stable and reliable connection. The built-in Wi-Fi module allows you to create an access point and connect up to ten devices to it at the same time.
4G Wi-Fi USB router
1 × mini SIM (2FF)
Mobile networks: 4G FDD LTE: B3/7/8/20 (1800/2600/900/800 MHz), 3G UMTS/WCDMA: B1/8 (2100/900 MHz)
LTE Cat 4: download speed – 150 Mbit/s, data transfer speed – 50 Mbit/s
Wi-Fi IEEE 802.11 b/g/n 2.4 GHz. Simultaneous connection up to 10 devices
Qualcomm Snapdragon 410 (MSM8916) LTE modem and Qualcomm WCN3610 Wi-Fi IC processors
Memory 4 GB NAND flash + 512 MB LPDDR2
Two LED indicators: mobile network, Wi-Fi network
USB Type-A interface
Power supply via USB 5 V/2 A
Additional functions: traffic statistics 24/7; WEP/ WPA PSK/ WPA2 PSK encryption; IPv4/IPv6; MAC filter; speed limit according to MAC; web interface; SMS and phone book; work in USB modem mode; timer to reboot
Characteristics
Where to buy
| | |
| --- | --- |
| Type | Mobile Router |
| SIM card type | Mini SIM (2FF) |
| Network | FDD LTE: 4G FDD LTE: B3/7/8/20, 3G UMTS/WCDMA |
| Interface | USB Type-A |
| Communication standard | IEEE 802.11b/g/n |
| Frequency range, GHz | 2.4 |
| Connection speed, Mbit/s | Up to 150 (download), up to 50 (upload) |
| Processor | Qualcomm Snapdragon 410 (MSM8916) LTE modem, Qualcomm WCN3610 Wi-Fi IC |
| Memory | 4ГБ NAND flash+512МБ LPDDR2 |
| Antenna type | Built-in |
| Operating modes | Modem, router |
| Safety | WEP, WPA-PSK, WPA2-PSK |
| Functions | 24/7 traffic statistics, Mac filter, MAC speed limiting, Web interface, SMS, Phonebook, Software update (FOTA), Watchdog |
| Dimensions (WxHxD), mm | 34x10x100 |
| Weight, g | 25 |
| Manufactured | China |
| Warranty | 12 months |
Powerful Qualcomm Processor
2E PowerLink MiFi1 is built on the Qualcomm Snapdragon 410 (MSM8916) LTE modem processor, which has four Cortex-A53 cores with a clock frequency of up to 1.4 GHz and is one of the most reliable and common processors in its class.
Easy to Connect and Set Up
To use 2E PowerLink MiFi 1 as a mobile modem it is enough to install a 4G SIM card of a mobile operator and connect the device to the USB port of a PC or laptop with Windows OS. Even an average user can handle the connection and configuration: there is no need to install any additional drivers, third-party applications or manually enter the network connection parameters. The modem is automatically detected by the Windows operating system as a virtual network card (RNDIS), after which a connection to the 3G/4G mobile network is established, because the necessary settings for all Ukrainian mobile operators (Vodafone, Kyivstar, LifeCell) have already been entered into the router's memory. 2E PowerLink MiFi1 works in all frequency ranges of Ukrainian 3G UMTS (B1/8-2100/900 MHz) and 4G LTE (B3/7/8/20-1800/2600/900/800 MHz) mobile networks, so no matter where the user is – in a big city or in a remote rural area – getting access to high-speed mobile Internet in a matter of seconds is easier than ever.
A Mobile Wi-Fi Router Will Always Come in Handy
The device allows you to easily connect to the Internet regardless of where the user is. You can also use the PowerLink MiFi1 as a backup option if the cable network does not work, or simply as an additional source of high-speed Internet. Due to its compactness and portability, the router is the optimal choice for those who are constantly on the move and need fast and reliable access to the World Wide Web without being «tied up» to a Wi-Fi network at home, in the office, in a hotel or in a co-working space. 2E PowerLink MiFi 1 can also be used as a mobile Wi-Fi router to provide Internet access to devices such as printers, MFPs, gaming consoles, video surveillance cameras, Smart Home system sensors, etc.
Reliable Wi-Fi Network
The Qualcomm WCN3610 processor with Wi-Fi 802.11 b/g/n 2.4 GHz wireless technology support provides high data transfer speed and stable connection for ten Wi-Fi devices to the PowerLink MiFi 1 access point. In addition, the WCN3610 is featured by high performance and low power consumption, that allows you to save battery power (if the router is connected to a power bank) and have more time for work or entertainment.
Access Point in a Matter of a Second
To quickly create a Wi-Fi network, it is enough to connect the 2E PowerLink MiFi 1 to a 5 V/1 A power source: a smartphone charger, a power bank, a USB car charger will work. Wi-Fi network coverage radius is up to 15 m.
Administration and Management
For administration of 2E PowerLink MiFi 1 and devices control in the Wi-Fi network, an intuitive web interface in Ukrainian is provided, available in any browser on a PC, smartphone or tablet at the address http://192.168.100.1. The login and password for entering the system are indicated on the device body. Thanks to the management interface, it is convenient to keep traffic statistics, limit access to the Wi-Fi network by MAC addresses, limit the speed of connected devices, send SMS, set a timer for reboot.