Mobile Phone 2E E280 2022 Dual SIM Silver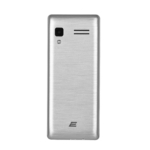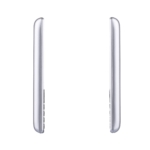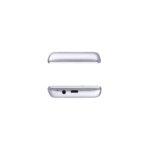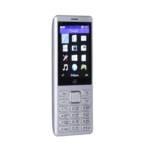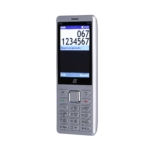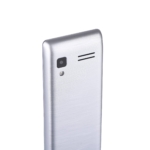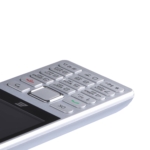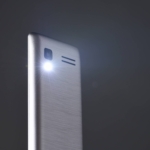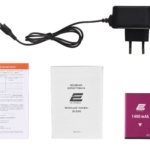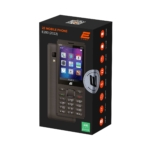 2E E280 2022 Dual SIM mobile phones with an optimal set of functions will become a reliable assistant in everyday life. The phone in a thin streamlined body with a thickness of 11 mm is convenient to use. The large font of the menu is readable and legible. Support for two SIM cards gives even more opportunities for communication. Many useful applications for daily use are installed in the phone's memory: alarm clock, calculator, calendar with event planner, audio player, FM radio, etc.
Screen diagonal is 2.8″
2 × mini-SIM (2FF)
Textured back panel
0.3 MP camera with LED flash
Memory: internal 32 MB, support for microSD memory cards up to 16 GB
Personal photos and ringtones for contacts
Interfaces: Bluetooth 2.1, microUSB, 3.5 mm audio
SOS mode
FM radio with built-in antenna
MP3 player
eBook
Speed dial (8 numbers)
Battery capacity is 1 400 mAh
Characteristics
Where to buy
| | |
| --- | --- |
| Form-factor | Monoblock |
| SIM-card slot | 2 SIM (Mini-SIM) |
| Network | 2G, GSM 900/1800 MHz |
| Communications | SMS, Bluetooth 2.1 |
| Interface | MicroUSB, 3.5mm jack |
| Phonebook | 300 contacts (2 numbers per contact) |
| Speed dial | Yes |
| Blacklist | Yes |
| Display | 2.8'', TN, 240х320 (QVGA), 262000 colors |
| Camera | 0.3 MP with flashlight |
| Keyboard | Plastic, Ukrainian and Latin alphabets |
| Keyboard backlight | No |
| Memory | 32 MB, microSD 16 GB |
| Operating system | Proprietary |
| Battery | Li-Ion, 1400 mAh |
| Audio | Receiver and Loudspeaker 2in1 |
| Games | Yes |
| Material | Polycarbonate |
| Color | Silver |
| Flashlight | Yes |
| SOS mode | Yes, with autodial, sending SMS to five numbers from LBS |
| FM-radio | Yes, with integrated antenna |
| Confidentiality | Yes, password for menu items |
| PowerBank function | No |
| Import/Export contacts | Yes, from VCF-file or through bluetooth |
| Additionally | MP3 player, vibration alert, voice recorder, calendar, file manager, calculator, timer, stopwatch, alarm, eBook |
| Size (WxHxD), mm | 56.5x134.5x11 |
| Weight, g | 86 |
| Complectation | Phone, charger, battery, warranty card, manual |
| Manufactured | China |
| Warranty | 12 months |
| Package dimensions (WxHxD), cm | 8x14x6 |
| Package weight, kg | 0.18 |
| Package volume, m3 | 0.0007 |
Thin and big screen
The 2E E280 (2022) feature phone with a large 2.8-inch screen is made in a sleek body. The surface of the back panel of the phone is stylized as polished metal: it is rough, matte, pleasant to the touch and guarantees a reliable grip, so the phone will not slip out of your hands. The convex keyboard of the illuminated dialer is made of high-quality and wear-resistant plastic. All keys are large and have a soft and clear stroke, it makes dialing a number and working with the menu very convenient. The thickness of the phone is only 11 mm, it lies comfortably in the hand and is invisible in the pocket.
Clear interface and easy control
The UI 2E v2.0 has a dark theme installed. The large contrast menu font (14 pixels/3.7 mm) is readable and legible. The font size of the dialer is 30 pixels (8 mm). The graphical interface is intuitive and has large and bright icons. In the phone, everything is thought out for the user's convenience, in particular, the "Main Menu" has two types of display: a tile of icons with 12 sections and a list that can be customized according to your needs, shortening or expanding the list of sections used most often. The central joystick key can be programmed to quickly start four programs, and the lower keys (*, 0, #), when pressed for a long time, activate the recorder, flashlight, change of sound profiles, respectively.
Functional
The 2E E280 2022 model supports work with two SIM cards. For storing personal melodies, contacts, music files and other important information, an expansion slot is provided with support for a microSD card with a volume of up to 16 GB.
The phone book contains 300 contacts, 2 numbers for each. You can choose a personal melody from the six installed melodies or from the microSD memory card. It is also possible to set a photo for each contact, which will be displayed on the phone's large display every time during an incoming call. Contacts can be imported to the phone from a VCF file stored on a microSD card or via Bluetooth. On the keys "2-9" you can set eight numbers from the phone book for speed dialing. You can block unwanted contacts using the "Black List". With the "White list" function, it is possible to block all incoming calls, except for calls from numbers included in the allowed list.
The ethereal FM receiver of the 2E E280 2022 phone works without Internet access and does not require the connection of wired headphones as an external antenna. The FM antenna is already built into the device. But if the radio tower is located far from the user, for better reception of the FM signal, you can use wired headphones connected to the 3.5 mm audio jack as an external antenna. It is possible to set an FM station as an alarm signal.
The audio player lets you create playlists by playing mp3 music files from the microSD card memory. You can listen to music through the phone speaker, wired headphones or wireless Bluetooth audio devices (headphones, speakers, car stereos).
The bright flashlight is turned on by pressing the "0" key and has two modes – constant light and flashing. The function of the flashlight is performed by the LED flash of the phone's camera. On dark streets and pedestrian crossings, the flashing mode will make the user more visible to drivers. The flashlight's LED also blinks for incoming calls and SMS (function control via "Call Settings" menu).
Several useful applications are installed in the phone, including: voice recorder, calendar with an event planner, stopwatch, timer, alarm clock (3 pcs.) with the possibility of recording voice and text reminders, and the popular game "Snake".
Thanks to the unique SOS function, in the event of an emergency, an auto-dial will be made to five trusted numbers, and also the LBS-coordinates of the phone's location will be sent via SMS from the mobile operator. Using publicly available Internet resources, you can determine the location of the device on the map by LBS coordinates in a few minutes.
Autonomy
The long-term operation of the phone is ensured by a battery with a capacity of 1 400 mAh: it provides up to 20 days in standby mode with no recharging, and with the "Energy saving" function turned on, the operating time will increase by 20%. With moderate use for calls and SMS, the phone's operating time is up to 5 days.