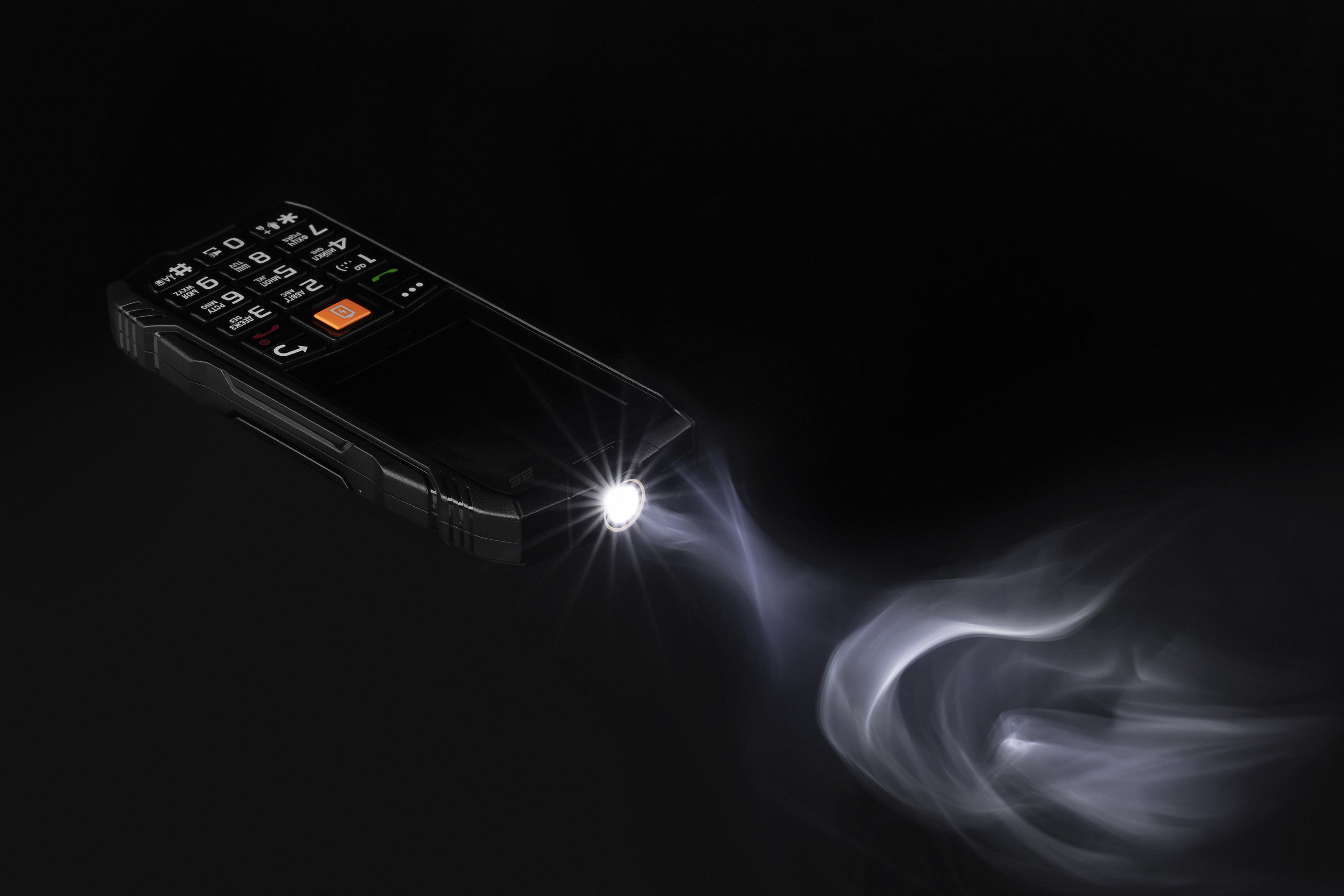 The 2E brand mobile phones range includes 2E R240 (2020) Track model, which is designed for use in difficult conditions.
Phone Usage Scenarios
The body of 2E R240 (2020) Track is protected against moisture and dirt according to the IP68 standard. This means that the phone can be washed under running water and submerged for up to half an hour in water to a depth of 1 m.
Considering the complex scenarios of using the phone, the keys are made in King-size. Moreover, they have a convex surface, which is convenient even if you are wearing work or tactical gloves. The keyboard has a Ukrainian layout, which the 2E brand was the first to introduce for push-button phones since 2018, as well as a Ukrainian menu.
The Interface Will Satisfy the Needs of Demanding Users
The dark theme of the interface does not strain the eyes, improves contrast in bright daylight, and reduces battery consumption at night. The interface dark theme is important during light masking
Phone book for 500 contacts (two numbers for each contact and the ability to set a personal melody and avatar), the ability to import contacts from a VCF file or via Bluetooth
Speed dialing (7 numbers), black list, password setting for some menu sections
Two separate speakers (conversational and multimedia)
Large fonts in menus and dialers
The phone adds charge
The phone has a separate USB-A port with USB OTG (Powerbank) function for recharging other devices. It is not possible to fully charge a smartphone from the phone's battery, but adding a couple of tens of charge percent and up to an hour of additional autonomy is no problem.
Some users use 2E R240 (2020) Track to power a USB 4G Wi-Fi router, providing themselves with high-speed Internet in the field.
Additional Functions
Timer
MP3 player
Stopwatch
Vibration call
Calculator
Alarm clock (3 pcs.)
File manager
eBook (viewing TXT files)
Calendar with event planner
Secret folder for SMS, password for some menu sections
Voice recorder: microphone recording, call recording, FM recording
Energy saving function (increases autonomy by 20%)
FM radio with built-in antenna (works without the need to connect wired headphones)
Feature: emergency phone
Among other things, 2E R240 (2020) Track phone is equipped with a powerful LED flashlight with an illumination of 1,000 LUX at a distance of 2 m and two operation modes – constant light and flashing mode when, for example, you need to send an SOS signal.
A feature of 2E R240 (2020) Track is the SOS function, which locates the phone by LBS parameters of the mobile network and sends coordinates to user-defined phone numbers in SMS. Using free geolocation websites, you can determine the phone's location on Google maps with an accuracy of several tens of meters, based on LBS coordinates. So, if you need to quickly transmit approximate location coordinates in an emergency, 2E R240 (2020) Track will be an indispensable assistant.