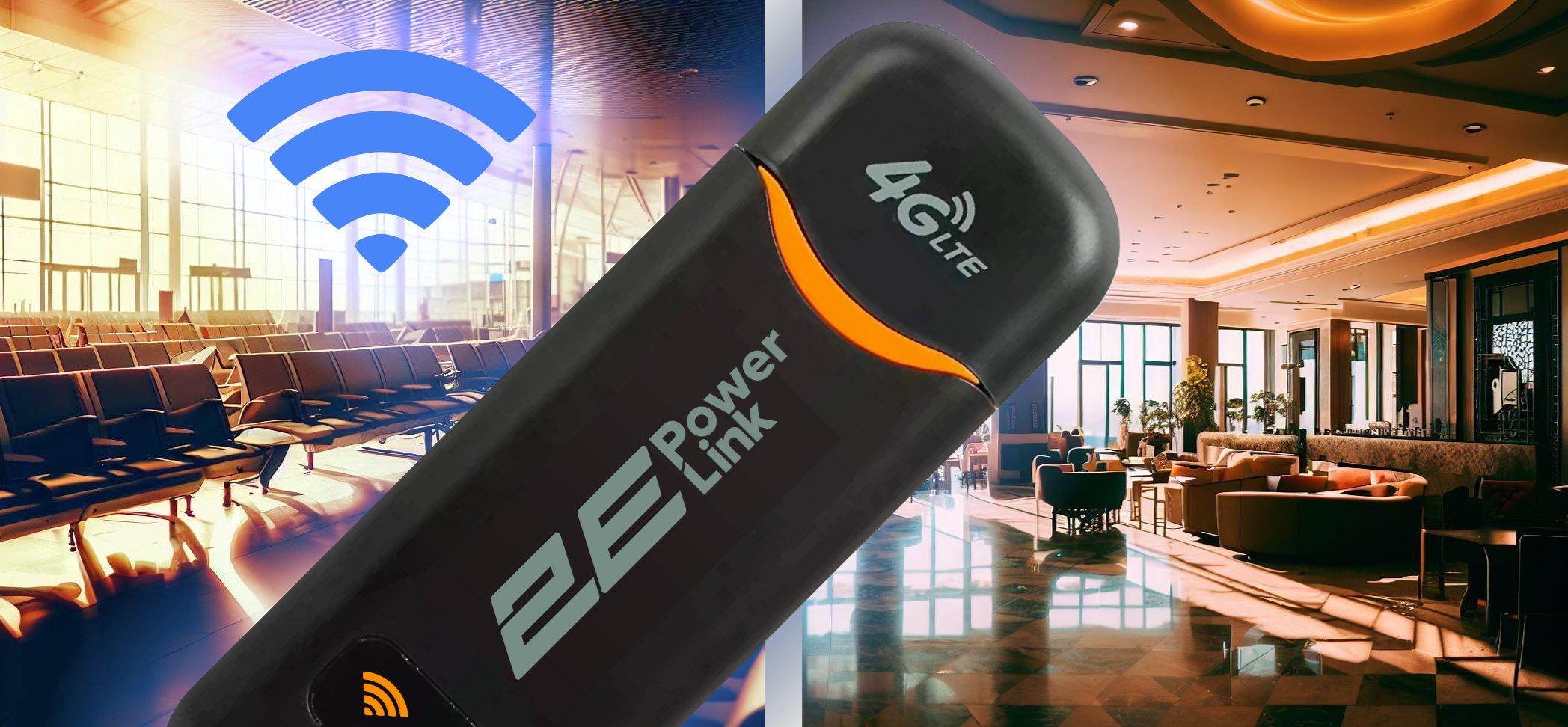 The range of 2E network devices has been replenished with a compact 4G LTE Wi-Fi router in USB stick form factor.
2E PowerLink MiFi 1 is a compact 4G Wi-Fi router in USB modem form factor that provides access to 3G/4G mobile Internet at once for 10 devices at a speed of up to 150 Mbit/s. With its help, you can connect to a 4G LTE mobile network and enjoy high download and data transfer speeds, as well as a stable and reliable connection. The built-in Wi-Fi module allows you to create a Wi-Fi access point and connect up to 10 devices to it at the same time.
Reliable Processor
2E PowerLink MiFi1 is built on the Qualcomm Snapdragon 410 (MSM8916) LTE modem processor, which has 4 Cortex-A53 cores with a clock frequency of up to 1.4 GHz, and is one of the most reliable and common processors in its class.
Easy to Connect and Set Up
To use 2E PowerLink MiFi 1 as a mobile modem, it is enough to install a 4G SIM card of a mobile operator, connect the modem to the USB port of a PC or laptop with Windows OS – and immediately start using the Internet. It's easy for anyone to use – no need to install any drivers, third-party applications or manual network connection settings on your computer. 2E PowerLink MiFi 1 is automatically recognized by the Windows OS as a virtual network card (RNDIS) and independently establishes a connection with a 3G/4G mobile network, because for this the settings for all Ukrainian mobile operators (Vodafone, Kyivstar, LifeCell) are already stored in the memory router.
2E PowerLink MiFi1 works in all frequency ranges of Ukrainian 3G UMTS (B1/8 – 2100/900 MHz) and 4G LTE (B3/7/8/20 -1800/2600/900/800 MHz) mobile networks, so anywhere, in a big city or in a remote rural area, users will get access to high-speed mobile Internet in a matter of seconds.
Mobile Wi-Fi Router Anywhere
You can easily connect to the Internet on your laptop or PC, no matter where you are. You can use PowerLink MiFi1 as a backup option if the main network does not work, or simply as an additional source of high-speed Internet.
Thanks to its compactness and portability, 2E PowerLink MiFi1 4G router is an excellent choice for those who are constantly on the move and need fast and reliable Internet access without being tied to Wi-Fi at home, in the office, in a hotel or in a co-working space. You can use it for work, study or entertainment, anywhere and anytime.
2E PowerLink MiFi 1 also works as a mobile Wi-Fi router to provide Internet access to such devices as: smartphones, tablets, laptops, printers and MFPs, game consoles, smartTV, video surveillance cameras, smart home sensors, robot vacuum cleaners , and many other smart devices controlled via Wi-Fi.
High Productivity and Energy Efficiency
The Qualcomm WCN3610 Wi-Fi processor supports Wi-Fi 802.11 b/g/n 2.4 GHz wireless technologies, and provides high data transfer rates and stable connections for 10 Wi-Fi devices to the PowerLink MiFi 1 access point. The WCN3610 processor has high performance and low energy consumption, which allows you to save battery charge (if the router is connected to a Powerbank) and continue the device's operation on one charge for a longer time.
Wi-Fi Network Organization
To quickly organize a Wi-Fi network, it is enough to simply connect 2E PowerLink MiFi 1 to a 5V/1A power source (smartphone charger, mobile Powerbank battery, car USB charger) and that's it – you will get high-quality Wi-Fi coverage with a radius of up to 15 m.
Network Administration and Management
To administer 2E PowerLink MiFi 1 and manage devices in the Wi-Fi network, the router has a convenient web interface in Ukrainian that can be used in any browser on a PC, smartphone or tablet at the address 192.168.100.1. The login and password for accessing the router management interface are indicated on the device body. The router management interface will help you keep traffic statistics, limit access to the Wi-Fi network by MAC addresses, limit the speed of connected devices, send SMS, configure a watchdog timer.
Where can I use 2E PowerLink MiFi 1?
In the country.
For organizing a home Wi-Fi network for connecting smartTV, tablets and smartphones, «smart home» sensors for automatic watering, lighting and video surveillance.
In the shop.
For organizing a Wi-Fi network for employees and customers, ensuring the operation of cash terminals and computers, updating the moving line of outdoor advertising, video surveillance, etc.
On vacation or on a business trip.
Outside the Wi-Fi network of a hotel, cafe, office, or if the quality of the connection is not satisfactory, you can provide high-speed Internet right from your pocket. 2E PowerLink MiFi 1 will handle this very quickly.